Very shortly after the last update, I moved right on to the sprite text welding issue, something I've/we've been avoiding because of the pain it'll be. But it's not gonna get done if we stay scared of it, so I went right for the throat. It's definitely going to be a tough little hack, but I don't think it'll be anything quite as crazy as the battle text hack from a few weeks ago.
Anyway, yesterday I managed to follow the code a bit so I could get my bearings. We already hacked two important routines related to this font stuff, one being the routine that tells the game where in the ROM the current font letter is, and the other being a routine that makes the game load 16 rows of font data rather than 10 (this is how we got that old problem with text hooks fixed). So this area of the game's code isn't new to us, which is a plus. The way the game does the font loading is kind of lame though, but luckily I found a bit of code that does exactly what I hoped. It was pretty big and inefficient, so I wrote it better in much less space. The freed up space will be handy for the custom code to come.
But it sounds like what exactly this "sprite text welding" stuff is is a mystery to some people, so I thought I'd do a quick explanation.
Blah blah boring technical junk follows
Basically, "sprite text" is just that — text that's displayed using sprites. The GBA hardware only allows for 128 sprites at any one time, though. In the case of MOTHER 3, if you go over that limit, text won't appear, which cuts text off in the middle of words. Simply reducing the number of letters in text that uses sprite text isn't an option either, there's still a good chance you'll go over the limit, because you can't know ahead of time how many sprites will already be in use. If that doesn't make much sense now, maybe the rest of this will help explain.
It doesn't make much sense to use sprite text this much though, so I'm not sure why the menu programmer decided to do it this way. What's weirder is that he/she/it mixed and matched sprite text and normal text — sometimes there'll be sprite text and normal text right there next to each other. It's crazy. Blah. And the guy didn't even do normal text a sane way, but we'll get to that another week 🙁
So anyway, the problem left to us is how to allow more text within these sprite/hardware limits. The answer is "text welding", a term I think Jeffman coined, but it's not an uncommon practice in ROM translating. In the case of MOTHER 3, the game is really inefficient and assigns one letter per sprite, so the theoretical maximum number of sprite letters that can be on screen at any one time is 128. That's not that much as it is, and most of the time you got much less than that available. So, instead of 1 letter per sprite, we're going to dynamically stuff as many letters into each sprite as possible.
Here's a pic of sprite text in action. The widely-spaced apart text is all sprite text.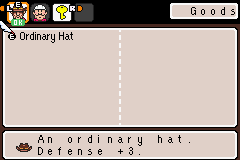 As you can see, I took our VWF code off. The game normally spaces each sprite letter 10 pixels apart, but Jeff's VWF hack a few months ago made it space things correctly. However, this only moved the sprites into alignment, we still had the exact same limitations as before. Meaning that hack was only a temporary fix — we need to do this at a lower level.
In the case of this pic, you can see the item description gets cut off. This is because too many sprites are in use. But there's no way to know in advance how many letters you can safely use. For instance, you could have 1-4 different character names on the side at any one time, and any one of those names can be from 1-8 sprite letters long. There's no way to tell in advance how much DP you have; the numbers up there use sprites too. The same goes for the item prices. And so on and so forth.
I know I just repeated myself, but I think that pic might explain it better than words 😛
So the fix. Like I mentioned before, the game does this sprite text stupidly. It does one letter per sprite, but it sets it up so that each sprite can be 16 pixels wide, as you can see here.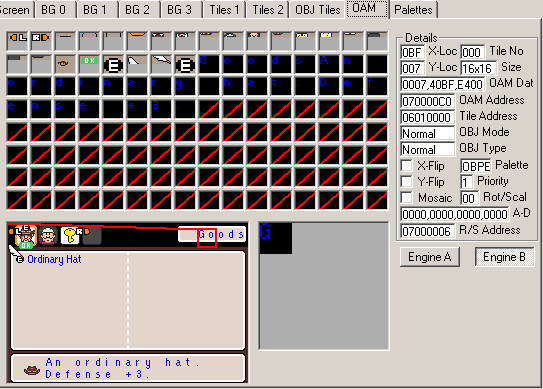 But the average width of our letters is probably 4 or 5. If we used that space efficiently, we could get 3 letters in one sprite on average. In really lucky cases, we could fit more, for instance, right now the word "skill" takes 5 sprites, but with on-the-fly/dynamic text welding, it would only take 1. That's awesome. Theoretically, you could have 800% more text per sprite in the best of cases 😯
Making this thing work will be a pain, what with all kinds of bit shifting around in OBJ memory (which is where most of this hack will take place), making sure the game doesn't move on to the next glyph struct in RAM when it shouldn't, making the game know to allocate the new correct # of sprites, making the hack work with the status icons and newlines correctly, etc. etc. Given how busy things are right now for me, it'll probably take a week or so, but once done, we can have lots and lots of sprite text and not worry about text suddenly vanishing or blinking on and off or anything like that. That shop text pic up above actually has a bunch of sprite text blinking on and off really fast 😛
I kinda rambled on here, but the short story is:
sprite text now = ungood
need hack to make good
working on hack, so far so good
UPDATE: To make it a little easier to understand, here's this. The first pic is how the game's programming handles sprite text in memory. Just look at that mess, and how many boxes there are and how crazy and inefficient it all is.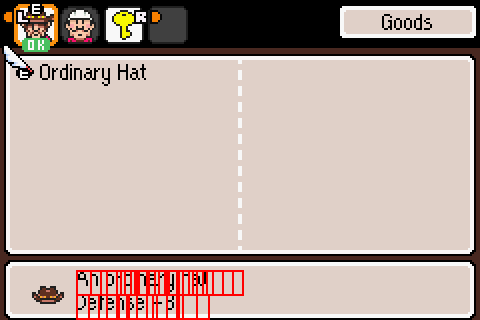 Once sprite text welding is done, here's how the game will handle it in memory. Look how fewer boxes are used and how efficient it is. In this case, the original had 27 sprites in use, the hacked version will result in only 9.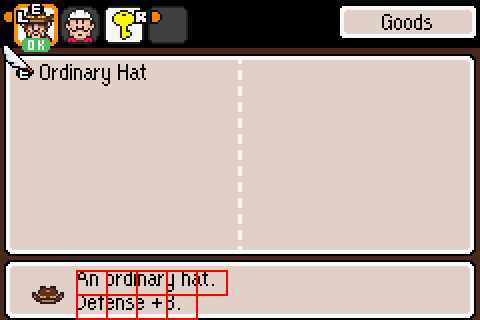 This is the whole point of this — to allow for more sprite text by efficiently using what little resources we have available. Hopefully that makes more sense 😉