When we released the MOTHER 3 fan translation patch in 2008, it was because it was clear that Nintendo had no interest in releasing an official translation of the game. Still, there's always the hope that the game might be re-released someday on some new platform, at which time us fans will clamor for an official translation yet again.
I realize that localizing a game this size can cost a lot, so if it'll help in even the slightest, I'll gladly offer to let Nintendo use my text translation files for any use at all, completely for free. I'll even edit the files to fit whatever new standards are necessary (content, formatting, memory size, etc.), completely for free. I'll even retranslate everything from scratch if need be. Just whatever it takes to get an official release out.
It might seem unlikely for a legitimate company to use a fan translation or work with fan translators, but it has happened before – Ys: The Oath in Felghana is one recent example. It's more common among visual novel games at the moment, but I believe this sort of thing will only become more and more common over time. Only when the works in question are up to a certain standard of quality, of course.
In any case, if it matters, I'm actually a professional translator with many years of experience. Here are some references:
For further reference into how much work was put into the unofficial MOTHER 3 localization, I've started posting detailed translation notes on my Legends of Localization site here.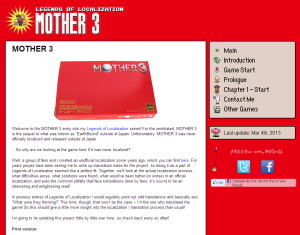 The project's development blog (which you're at right now) also goes into great length about the amount of work and detail put into the game's localization.
I definitely realize this is a silly-sounding offer and all, but I figure it's better to make the offer and seem silly than possibly miss an opportunity entirely.
In the end, if localizing MOTHER 3 should ever come up in a Nintendo business meeting or whatever and someone brings up budget concerns or it costing too much, my hope is that someone will at least mention this offer too, even if it isn't accepted.