My fix yesterday to allow a bajillion letters per line with the main script wound up having a weird effect on the flyover text and other similar text in the game. Fixing it seemed tough, but yet again, after some sleep the fix was real simple. Hurray, sleep!



This doesn't make me
feel very welcome 😐




Oh cool I love this world
---
Anyway, now that that's out of the way, Draft 2 time! Like I mentioned before, this isn't that exciting a process so updates may get boring and scarce, but that's probably a good thing. I'll still post regular progress reports and info and stuff though. Some details about script stuff below.
First, there's a good amount of text in the game. In its raw, fully-squished down form, it's about 700 KB. That might not seem like much, but try typing a story in a plain text file until you reach 700 KB. Your hands will be bloody stumps by then 😛 It's more normal in the ROM translation community to give a script's size from the filesize of the text dump. In that case, it'd be more in the 1 meg range, which is pretty freaking big for fan translations. Star Ocean was a 600 KB text file and it was considered a beast of a script. Bahamut Lagoon was like 300 KB. Usually, the only games with scripts this big that get fan translated are things like Playstation RPGs, if that means anything.
Also, like I mentioned before, it takes a lot more to say something in English than in Japanese, so the English script file is actually twice as big, so many months ago byuu helped us hack the main script routine to fit the English script back into the limited ROM space. Otherwise the entire game would've had to be butchered up like the menu patch text. Add in all the battle text, menu text, misc. text and it's even more. Even so, it's hardly unmanageable, so that Nintendo Power article about there just being oh-so-much text is pretty bogus. Especially when the people who work at the Treehouse get paid to do this kind of stuff, and have years and years of experience.
Anyway, getting sidetracked. The main script is divided into 1001 "blocks", with 7658 lines total. Like most games, the script is in a nonsensical order, so if you don't know anything about the game, things can turn out pretty bizarre. Actually, it's not in a nonsensical order, the script follows the same order that the game's maps are stored in. So, using the map viewer, a lot more context is available. It's still not possible to tell who's saying what yet, but hopefully our text editor will get that ability at some point.
Actually, for those who've played the game already, you can probably follow along the Draft 2 process by using the map viewer — you can see what stuff's coming up, what stuff's just been finished, etc. So even if updates are boring, you still got that. That might be neat to do I guess. Anyway, here's a pic of how everything connects: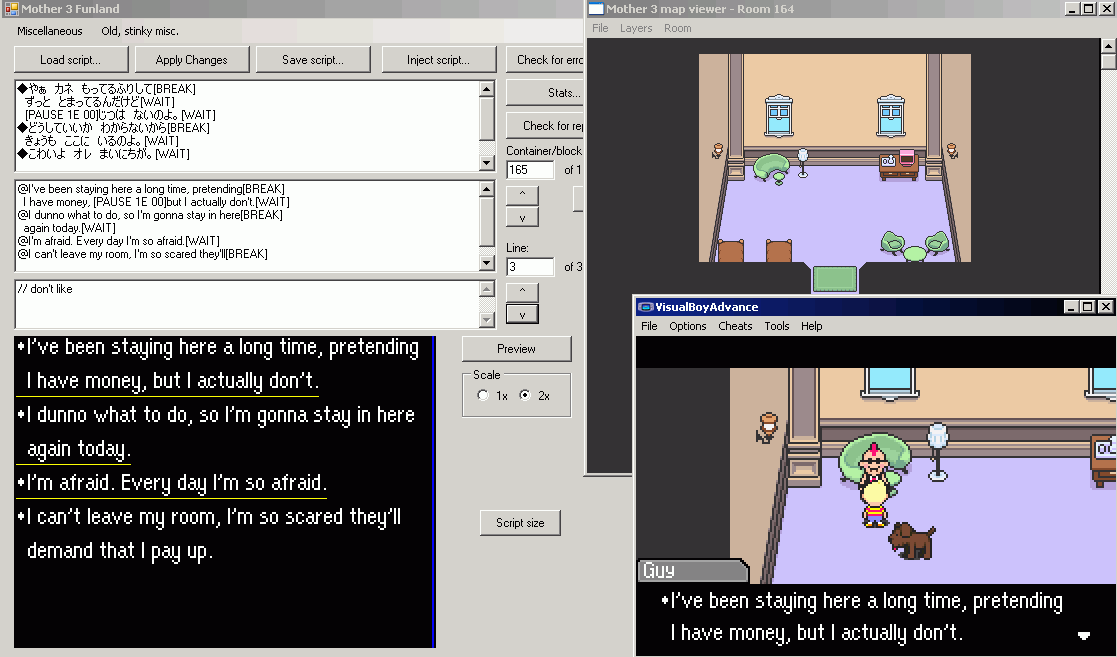 (The block # and the map # are off by like 1 because Block 0 is for text not connected to maps)
Professional translations are usually done in Excel spreadsheets and other mundane office documents, so this is all really nice to have. When reid and co. visited NOA last year, the people there were pretty amazed by the tools we're using.
All that blah blah aside, Draft 2 starts now… well, maybe after the 3-day weekend here in the States.
In the meantime, Jeff's been working on organizing all the remaining hacks and fixes. It really feels like the project's taking a new turn now, it's great 😀