Not a whole lot has been worked on since the last update, yet a lot HAS been done. It's weird. Anyway, things are going to get busy for me the next few weeks, but rest assured I'll be hacking away at this thing every spare moment I get.
Anyway, down to business, first the big-ish stuff. After fixing item descriptions, I needed to get back to work on the custom control code system for battle text. I was almost done, I just needed to do some codes for item names. Well, I sat down and did that today, it went surprisingly well. Item names can now start with vowels and not have a/an issues, and the game will use the/a/an/some as necessary, or sometimes it won't put anything at all for special cases. Pretty nifty. You can see this in action in these screens here.
---
---
So, now that that's basically done, we can cross another thing off the to-do list: "Add control codes for he, she, it, a, an, the, they, cohort, cohorts, etc." Nice.
So the next logical step after this was to tackle the custom control codes we're going to need in the main script. Luckily, byuu's code is friendly AND documented AND easily expanded AND ready for things just like this. If only all of the game's original code was so nice 😛 Anyway, because of all that, implementing the custom control codes we need for the main part of the main script took only maybe an hour.
The game wouldn't go down without a fight though — there are probably hundreds of different "You got [ITEM]!" lines in the script, sometimes they use generic item codes, sometimes they use specific item codes. And those that are in text block 0 are treated differently than all other 999 text blocks. And different item codes act differently. So that was a pain to try to work through, but I think I got it all in the end.
---
And because the game likes to be such a jerk, it took me about two hours just to get this line to work right.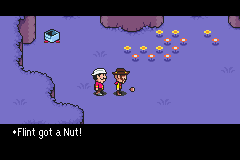 So when you go around picking up these nuts, just remember the sweat and more sweat that went into even these tiny crappy lines of text 😛
Anyway, this means we can cross another thing off the list: "Add in new control codes for things like a, an, the, some, he, she, it, they, them, etc. EarthBound had some of this reprogramming done to it too, and it made things sound nicer and more professional." Two more things kick the bucket! I still need to actually go and insert these control codes into the entire script and all the battle text, but I can do that during the second draft of the script later on.
I'm not sure if we need to implement he/she/his/her pronouns for the main script. I don't know if the need ever arises. We could probably go the extra extra mile with instances of "Lucas and company" — that sounds weird and "friends" doesn't work if you only have one companion, so I could maybe do it how EarthBound does it, but it's not really necessary right now. I'll probably sneak it in while the editing guys are busy working on the third draft of the script though 😛
I wound up taking more pics than I thought I would during this latest hacking session, so let's look at a few more just for fun 😉
---
Hurray and stuff! Or is it hooray? Languages are interesting.
Anyway, in other news, Jeffman looked further into the item name length expanding problem. He quickly figured out all the stuff I did back in November, but went on to look a little deeper. It turns out that the menu programmer created a weird buffer/a bunch of glyph bitmap structs instead of printing it right to the screen, as the battle programmer did. What this means is that the number of normal (meaning non-sprite) text letters printed to the screen in menus is limited. This is dumb. Keep in mind that we already have issues with sprite text limitations on menus. So now we've run into two different walls for the two different types of text. Why the menu programmer wanted to do things so roundabout is beyond us, but because it's there and because it's done so inefficiently, that means a lot of hard work we gotta do. Most likely we'll wind up doing another version of text welding at a very low level. I realize this is all jargony talk, so if you don't like that stuff, disregard this paragraph even though you've probably just read it. Short story: curse you menu programmerrrr
I've also gotten the game to do a weird freeze glitch on rare occasion in battles. I haven't looked into it yet, but I have a good idea what it is and will check it out when I get some time.
This leaves me with the question of what to work on next. I might go back and finish the battle text stuff since it already needs some looking at, and the rest of that battle text hacking will probably be a lot like the main battle text hacking. Or I could go mess with the sprite text welding stuff. I'm not sure yet. For now it's sit back and relax for a short bit 😛
Oh yeah, I just remembered that we got a quick mention in the latest issue of NGamer, a U.K. gaming magazine. The two-page article about the MOTHER series has some MOTHER 3 spoilers, but down at the bottom there's a quick nod to us: hi Thanks to ishuta for letting us know 🙂
Also, I updated the FAQs page ever-so-slightly, because there's been a bunch of repeat questions lately.
Anyway, that's all for now, this turned out to be a much textier update than I expected. But the good news is we're getting closer day by day 😀