Wow, just a few hours since the last update, yet I managed to fix something that's been a huge problem since Day 1: item descriptions.
Used to be that item descriptions that were over 42 letters long would kill the game in a horrible, screechy death wail. If you don't know what I'm referring to, check out the middle of this old video from way back in October.
Anyway, after only about an hour, I've managed to fix that problem. Much easier than I thought, too, given how the game swaps numbers around so much. Anyway, here are some pics! Hurray!
---
And here are a couple more.
---
Anyway, I don't know if anyone remembers, but back long ago, harmony started on MOTHER 3 all by himself, starting from a different direction than us. Before he got overwhelmed with real life, he did display some of his work, and those pics have taunted me ever since I first laid eyes on them. You can see some of them here:
But now it looks like we've not only gotten to that same point, but even surpassed it in some ways 😀
Anyway, if you look more closely at some of the pics above, especially the equip screen pics, you'll notice that text is strangely cut off for some descriptions. This is caused by there being too many sprites in use, as I described in the last update. So this is another reason why the sprite-text welding routine will be necessary.
Also, this problem fixes other description text problems, such as the PSI description crashes we were having. Basically, this makes the game a whole lot less crashy and more playable. And fun. "Item 057" and the like was getting really boring to read 😉
All the description text still needs a lot of fine-tuning and editing, but it's all been retranslated from scratch by Chewy, a cool fellow starmen.net translator. The old m3.org description text had a lot of strangeness in it, so it's good to have things fresh now.
The only problem comes when there are special icons in the description text. These icons only appear on about 6 or so item descriptions about items that heal various status ailments. But because of how things work, Jeffman's sprite text VWF gets confused by the icon's presence. It probably won't be too tough to fix though, but it's funny to look at 😛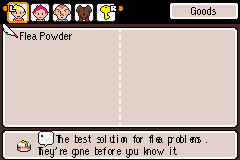 Anywho, now that this is done, the menus1 stuff won't be quite as tough as I thought, so I can bump it up from 5% or so to about 50%. Quite a jump, especially for something I thought would be hellish only a few hours ago 😯
BTW, item descriptions in battle have always worked since Day 1, because the battle programmer was cool enough to dynamically allocate memory for strings, unlike the menu guy who was always like, "meh, 42 letters will be enough for us".